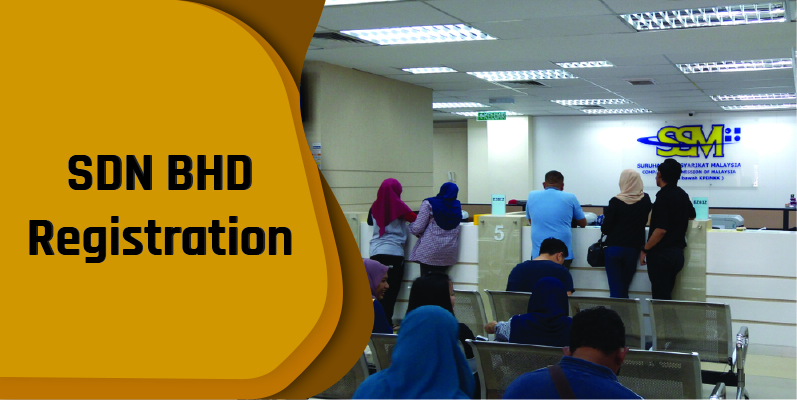 SDN BHD Malaysia Company: The SDN BHD registration Malaysia is also called Sendirian Berhad (Sdn. Bhd.) by the local people living in Malaysia. It is well known as The Private Limited Company for the world that is said to be one of the most popular forms of Limited Liability Company types in Malaysia.
These SDN BHD Company or The Private Limited companies are the best choice for business owners and foreign investors to look into who plans to set up their firm in Malaysia. These is mainly because of the lucrative benefits and facilities all these Sdn Bhd Malaysia Companies bring in with them regarding registration process, company infrastructure, policies, laws and regulations. The SDN BHD Malaysia Companies are counted as individual legal entity and consumes the right to sustain assets and properties in terms of the business company.
Some of the amazing features and properties that all this SDN BHD Malaysia Company consumes are:
Limited by Share: If the company goes in total loss due to any expected circumstances then as per law and regulation the shareholders, company secretary and other corporate personnel of the SDN BHD Malaysia company won't to be liable to any of the company shares.
The Sdn Bhd Malaysia Company consumes the right to go into debt.
Make new deals and contracts with other business firms.
All these Private Limited Companies or SHD BHD Malaysia Company can sue or be sued by individual or by a corporate organization.
Has the right to conduct their perpetual succession until authorized board members of the company i.e. directors, shareholders or company secretary decide to dissolve the company.
Counted as the first and best choice for conducting B2B type business by business owners and investors.
Now, let us look into some of the requirements that is crucial for formation or SDN BHD Registration:
Paid-up capital of minimum RM1 only.
One (1) subscriber assigned to the share(s) consumed by the company.
At least One (1) Company Director and Two (2) Shareholders who are 18 years and above in age.
One of the directors are said be a Malaysian Citizen or residing in Malaysia. The individual cannot be a bankrupt and is not been convicted or been jailed for minimum past 5 years.
Minimum One (1) Company Secretary.
The Company Secretary has to be a member of a prescribed professional body or is said to be licensed by the Suruhanjaya Syarikat Malaysia, SSM.
The SDN BHD Malaysia Company must have its own registered office in Malaysia.
Suruhanjaya Syarikat Malaysia (SSM) is the only sole authorized corporate organization conducted by the Malaysian Government who deals with company registration and business regulatory affairs for all types of business entities based in Malaysia.
Hence to SDN BHD Registration Company or Private limited Company one has to go through terms and steps assigned by the SSM. Usually to Register Sdn Bhd Company or any other business entity, each has to go two main steps to get approval and registered by the SSM.
Company Name Approval
Company Registration.
Read Also: Requirements to setup Sdn Bhd Malaysia Company
Detailed documents needed for SDN BHD Registration
To seek attention and interest of Business Owners and Foreign Investors from all around the world Malaysia and its Government along with SSM has been trying to make their company registration process simpler, cost effective and easy to understand. Following details are needed to register SDN BHD company in Malaysia:
New proposed and approved by SSM company's name
Company Directors' & shareholders' valid residential address
Photocopy of an Authentic IC or NID
Share capital structure
Company Directors and their requirements needed to SDN BHD registration in Malaysia:
Each SDN BHD Malaysia Company must have a minimum One (1) member assigned as the Company Director maximum can be Two (2) if required by the company.
All directors have to be 18 years and above.
They cannot be a bankrupt.
The company directors cannot be convicted or been jailed for a minimum in past 5 years.
At least One (1) of the company director is said to be a Malaysian Citizen or residing in Malaysia
Read Also: Hire Nominee Director for Company in Malaysia
Company secretary requirements to Sdn Bhd registration in Malaysia:
Registered office in Malaysia is a must need to register SDN BHD company:
The business entity is said to have a registered office in Malaysia.
It has to be a commercial address to which official documents and other official files can be served
It Cannot be a PO Box
The office address is usually used as the company's secretarial firm for registration Sdn Bhd Company in Malaysia.
Company incorporation filing fee
Well different Business Advisory Firms have different pricing assigned to register SDN BHD company in Malaysia. Yet it is a must that this flat fee must include the SSM filing fee in their package. So whenever an investor or any business owner is using the help of a business incorporation agent they must make sure for not being caught out with filing fee charges for SSM while submitting their application.
Sdn Bhd Registration requires a valid Business bank account in the Company's Name:
All Corporate Banks in Malaysia demands the following certified documents from the company for opening company bank account:
Certificate of Incorporation (Form 9)
All Other forms that are mandatory to be submitted for authentication.
Resolutions to open bank account or internet banking account.
Well different corporate banks may have different policies assigned for opening a company bank account. Hence it is highly recommended to visit the preferred corporate bank in Malaysia in person to know all details and requirements needed to open company bank account.
Annual General Meeting (AGM) for SDN BHD Registration:
The Sdn Bhd Malaysia company is said to hold its Annual General Meeting (AGM) within every 6 months from the accounted year end. The newly registered company has to held their AGM within 18 months from the date of company incorporation Malaysia.
One of the primary agendas of AGM is to have the company's audited accounts adopted or approved by the shareholders.
Filing Annual Return
Every SDN BHD Malaysia company has to lodge their Annual Return within 1 month of the AGM.
The annual return is said to be the NID of the company. It's a snapshot of information about the directors, auditors, shareholders, company secretary, registered office address and share capital.
Income tax return and Inland Revenue Board filing:
Once the company conducts its business activities it is a must that they get themselves registered with Inland Revenue Board. The Inland Revenue Board is also known as Lembaga Hasil Dalam Negeri, LHDN by the local people living in Malaysia.
One has to submit their company's income tax return to LHDN within 7 months from the end of the financial year.
GST license requirements to SDN BHD registration:
If the SDN BHD company results in ONE of the following categories provided below then there is no requirement to apply for GST license with the Royal Malaysia Customs.
Company's sales record for last year is less than RM500,000
Companies assumed sales for next is expected to be less than RM500,000
Company's business category is Exempt Supply.
Exporting products overseas
If the Sdn Bhd Malaysia Company does not accomply to any of the features mentioned above it is a must that the company has to register with Royal Malaysia Customs (RMC) and charge 6% GST to their consumers.
See details on the business license in Malaysia – Sign Board, Export, EPF, SOCSO
Accounts and audit
Every year all Sdn Bhd company has to prepare their accounts which needs to audited by authorized auditors in Malaysia. The company itself must appoint one or more auditors who are said to be approved auditors in Malaysia. The audited accounts conducted by the company is submitted to AGM for adoption/approval by the company shareholders. This audited account is lodged with SSM along with all other Annual Returns
Steps to get your Sdn Bhd Company for business operation:
Furnish all details & IC that is required.
Apply your desired company name for approval to SSM by filling up a form and paying the Flat Fee.
SSM might approve or disapprove the proposed name submitted.
If approved then prepare all registration documents by yourself or by the help of any business advisory agent available in the country. A form for business registration can be collected from the SSM. This form needs to filled up with all detailed information required.
Usually the information is asked in the Business registration application is about the company directors, shareholders, secretary, valid company's address, business nature etc.
If your company name is disapproved then one need to consider second name and again submit it to the SSM for approval. One has to pay the approval fee again as well.
All documents that need to be submitted to SSM for company registration Malaysia must be signed by the Company directors and other official figures.
Submit all valid documents and asked paper works to SSM or Sdn Bhd registration.
If your submitted documents are approved along with the type of business is said to be legal in Malaysia then SSM will issue a Certificate of Incorporation in the name of your company.
One can then start with their business in Malaysia.
After all, if you are planning to set up a company in Malaysia you should know the difference between Sdn Bhd Vs Enterprise